On the lookout for the best bookend for your home? From minimalist bookends to those with an element of fun, we've put together the definitive guide to the best bookends currently available today. Let's get started. 
Ten of our favourite book ends of 2020
1. OGORI Metal Bookends Heavy Duty Bookends for Shelves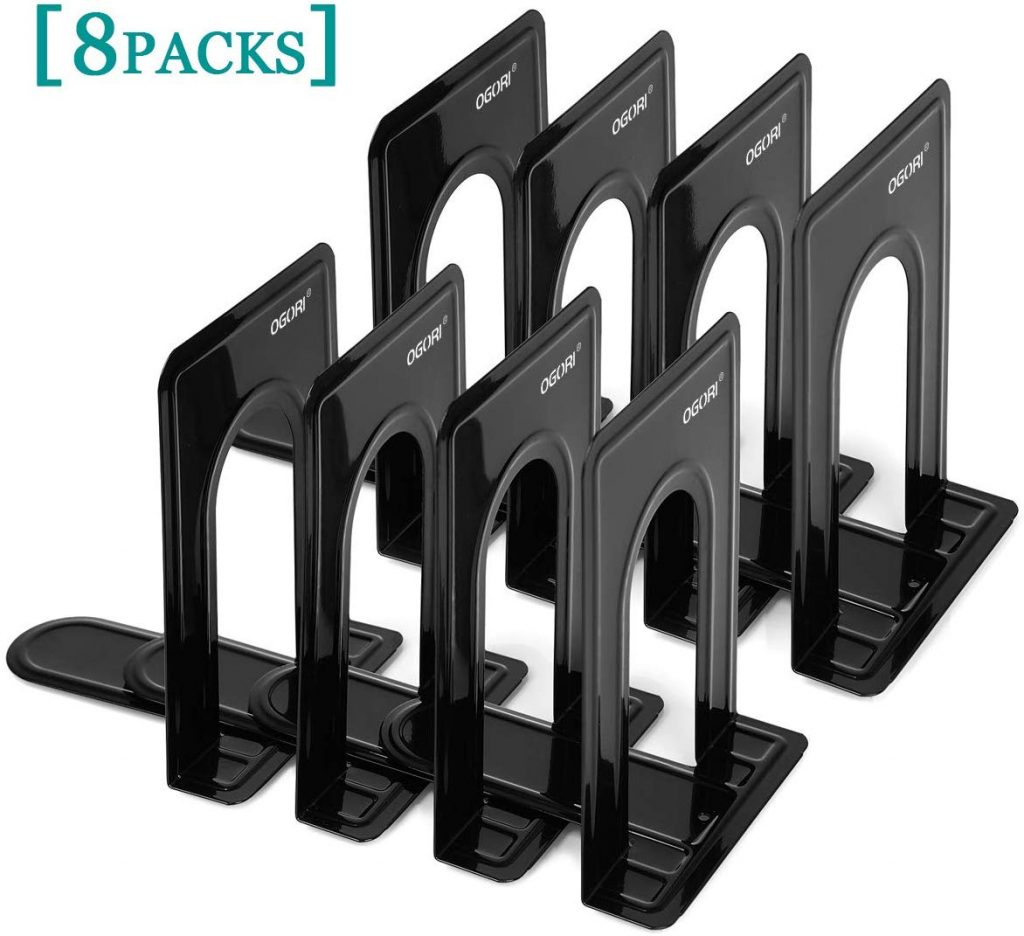 When you choose the OGORI Metal Bookends, you'll be choosing a heavy duty solution that ensure your books are kept firmly in place. They're very sturdy and have a design that emphasises the importance of that fact. They're all about functionality and less about extravagance, and that's exactly what many people are looking for when they want to keep their books in place on their shelves.
They're so effective thanks to their sturdy metal build, but there are other aspects worthy of note too. In particular, the non-slip base of the bookends helps to give you the peace of mind and security that you're looking for when buying this kind of product. Their 90-degree angle keeps your shelves looking neat and organised too.
You can choose a range of colours that help to ensure your bookends fit in whichever context you're looking to place them in, whether that's your home, office or even a school or library. They're adaptable and suited to a wide range of contexts and scenarios. They can be relied on to do the job and they're affordably priced as well, which means you'll certainly get value for your money with these bookends.

Check Price
2. Officemate Classic Bookends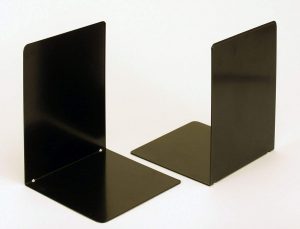 If what you're looking for is a set of bookends that offer minimalism, simplicity and plenty of space for your books, it makes sense to choose the Officemate Classic Bookends. They do everything you need them to and they're made of solid metal. The L-shape design of these bookends make them very unimposing and appealing in a wide variety of contexts and situations.
They're ideal for people who are looking to keep their books firmly in place on their shelves without taking up any space that doesn't need to be taken up. After all, your shelves are for your books so you don't necessarily want to waste lots of space with the bookends themselves. They come in sets of two and are available in a wide variety of colours.
They're a good size, meaning they're suitable for all kinds of books even if you have some bulkier hardbacks you need to keep in place. They're also very rigid, which is exactly what you need. But it's the fact that they're so discreet that makes them stand out. It often looks as if there are no bookends there at all, and they're also very cheap and affordable.
Check Price
3. SRIWATANA Bookends – White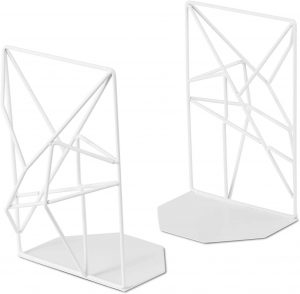 These SRIWATANA Bookends stand out for a number of reasons, but the first thing you'll notice is their unique design. They use an abstract geometric design that helps them look modern and sleek, fitting into many modern home settings or wherever else you might need to use bookends. They add a touch of style and sophistication to your shelves, which is something that might be important to you.
Their unique design and style doesn't mean that you have to compromise in terms of functionality and organization however. All of the boxes are ticked that you'd expect to be ticked when you choose these bookends. They are solid, heavy duty and reliable, despite their intricate-looking designs. They have an anti-slip material on the base and the mat used is non-scratching ,so you won't have to worry about general wear and tear causing problems.
They look great, offer the long-lasting durability you're looking for from your bookends and the price you'll pay for them is fair and realistic as well. All in all, these bookends shouldn't be overlooked, especially if you're going for a modern and elegant style from your bookends.
Check Price
4. Tebery Stainless Steel Kung Fu Man Bookends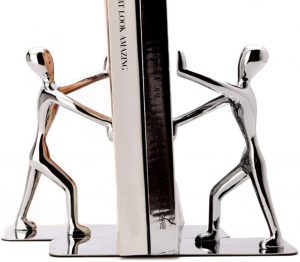 Tebery Stainless Steel Kung Fu Man Bookends do exactly what you'd expect. They offer a design that includes little men posing in position, holding up the books. It offers a nice, playful aesthetic to the bookends, while remaining simple and unimposing at the same time. Most importantly, these bookends are heavy duty and made from strong metal to ensure they do the job properly.
They can be used to hold up all kinds of books, DVDs, CDs, comic books and other media on your shelves without any problems at all. They'll keep your possessions standing vertically with ease and you won't need to worry about the quality failing you because these bookends are made using strong and durable materials and the product as a whole is built to last.
If you want to make an investment that'll pay off and ensure you don't have to continually replace your bookends, it might be worth considering this option from Tebery. These bookends have been used by many people and reviews are overwhelmingly positive, with people often mentioning their long-term durability and reliability.
Check Price
5. OSCO Acrylic Bookends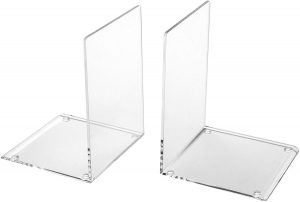 The OSCO Acrylic bookends are sleek, simple and barely noticeable. They come from a brand with a great reputation for producing storage and desk furniture for all kinds of companies. Many retail brands make use of their products, including these bookends. There are good reasons for that, including their reliability and strong performance. 
They're great at keeping books, CDs and DVDs in place without taking up any space. They're very simple and easy to overlook. If that's the kind of aesthetic you're looking to achieve on your shelves, you should definitely consider this option. They're stylish in their simplicity and provide non-slip bases to ensure everything stays in place as it should.
They not only look the part, but they do what you'd expect them to. And at such a low price, many people regard these are their go-to bookends. They're able to suit just about any room or contact thanks to their very simple and basic design, and that can only be a good thing.
Check Price
6. W Weblytech Owl Design Bookends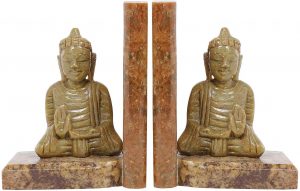 These soapstone bookends are great decor pieces, as well as being highly reliable bookends. If you're looking to add something that's a little more classic and standout to your shelves, the W Weblytech Owl Design Bookends could be exactly what you're looking for, so why not make that investment and ensure your books and other physical media stay exactly where you want them to?
They've been carefully crafted and have a distressed finish, creating a range of bookends that can't help but capture your eye as you enter a room. They add something new and different to your bookends, making them feel more like a design choice and a style item than a simple functional necessity.
They're perfect for the home as well for your office or even outdoors. They're flexible enough to accommodate just about every demand out there, and that's something that should be celebrated. They make ideal gifts for book collectors and people who love to display their books but struggle to keep them properly organised. So, if you don't know what to buy for that book obsessive in your life, this could be just what you need.
Check Price
7. SRIWATANA Bookends – Black Metal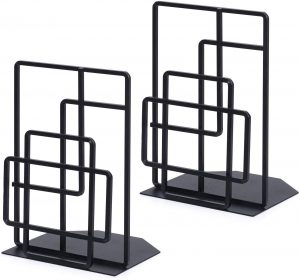 These SRIWATANA Bookends come in an all metal construction and are known to be heavy duty and long lasting. They're strong enough to keep all of your books in place and they're powder-coated to ensure they don't rust. The elegant design of the bookends makes them stand out for all the right reasons and they suit all kinds of modern homes and offices.
They can maximise the space you have available on your shelves because they're quite slim and simple in terms of their built. But the window lattice design effect looks fantastic from all angles. You won't have to worry about the design being too much if you're looking for something subtle, but it's attractive and sleek at the same time.
They can be used to store and organise all kinds of physical media from books and magazines to movies and music. They're functional, reliable and many people use them successfully on their shelves at home and at work already. They won't scratch your surfaces or sustain damage easily, so you'll have complete peace of mind using them. That's important when it comes to purchasing these kinds of products for your home.
Check Price
8. Design Toscano Castle Dragon Gothic Bookends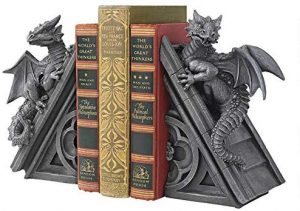 If you're looking for a style choice that helps to convey your love of something important to you and your style preferences, look no further than these Design Toscano Castle Dragon Gothic Decor Decorative Bookend Statues. Whether you're a big Dungeons & Dragons fan or you've just been bowled over by a Game of Thrones binge, these fantasy-themed bookends look simply incredible.
Their impressive and unmistakable design isn't the only thing that's great about these bookends however. They're also great at protecting your books and keeping them firmly in place. They're as sturdy and as strong as they look, and that's something that's really important when you want to ensure stability on your shelves. They won't let you down in that regard.
It's also important that these bookends are made in a careful and considered way. The figurines are of high-quality and are hand cast using real stone. These are not cheap knock-offers, they're designs that are created with care and that will last for a very long time to come once they're in place on your shelves at home or wherever else you might want to use them.
Check Price
9. Beige Fossilstone Marble A-Z Bookends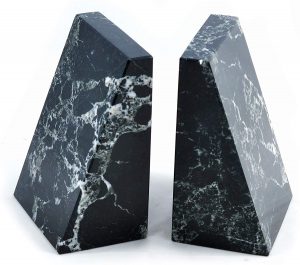 These beige fossilstone marble A-Z bookends are made from genuine Himalayan Marble and they're sturdy and heavy enough to ensure that all of your books remain where you want them. They look great and they encompass a theme that's ideal for book lovers of all kinds. Their quality is unmistakable and you won't have to worry about them letting you down.
One of the best things about these bookends is that each pair is unique. It's impossible to mass produce identical marble products like these. And as a result of that fact, the bookends you'll receive will be entirely unique; no two examples are exactly the same. This is one of the many reasons why these bookends also make great gifts for friends or family members.
If you're looking to do something more with your bookshelves and you want to them to stand out in a classy and elegantly stylish way, these A-Z bookends provide exactly what you're looking for. Make the most of them and ensure your books are both stable and secure. You won't be disappointed by the product once you see it and start using them.
Check Price
10. Evolution Bookends – Black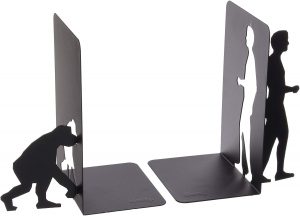 If you want to add something a little more fun or themed to your bookshelves, using these Evolution bookends in black could be the way to do it. They look great and they're ideal for people who are interested in history and the evolution of man. But they're just as well-suited to people who want to have some fun creating an interesting style on their shelves.
You don't have to be an expert on the evolutionary process in order to get some joy out of these bookends. Not only do they look great and offer a style that's both fun and interesting, but they also have a very strong build and a minimalist design that help you to make the most of the space you have available on your shelves. They don't take up any unnecessary room that you want to use for books.
They'll add a nice decorative touch to your shelves, so if that's something that your shelves are currently missing and you want to add to them, this is definitely the solution for you. They're simple, elegant and charming, and they offer a level of performance in terms of keeping your books in place that you won't be disappointed with. And all of that comes with a fair price tag too.
Check Price
Conclusion 
Whether you're looking for more modern bookends with a minimal styling, to themed bookends such as the fantasy bookends in this guide, or even to novelty DIY bookends for the home, I've tried to cover everything for all styles and quirks! 
Hopefully, you've found the type of bookend you've been looking for. We hope your perfect bookend brings as much joy as the books it will be holding!